PROFESSIONAL LOGO TEMPLATES

This is the Ultimate Logo Package that will save you thousands of dollars in artist fees and time. Quality, affordable logo designs without the price tag.
Buy it now for instant download then edit your own logo today!
Click below to purchase and download the whole logo package for only 19.95 now (limited time offer).
Size Uncompressed: 187 MB
Size Compressed: 53 MB
You get over 750 High Quality logo objects:

.ai (17 files)
.jpg (254 files)
.psd (349 files)
.gif (114 files)
.png (20 files)
.tiff (17 files)
.ttf (fonts)(26 files)

Your company or product logo and business identity is a key marketing tool for all of your organization's marketing materials. Studies have shown that branding via your logo directly affects a customer's perception of your company, products and services. Your logo is more than a fancy graphic -- It symbolizes all your company or product stands for. Your business identity is a critical investment into your company's future.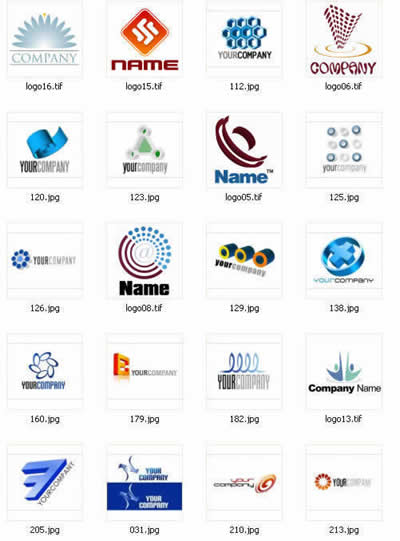 With this package you get the highest quality, professional logo designs at your fingertips for a fraction of the price of a single custom design. These are eye catching design that can be used on business cards, stationary, letterheads, websites, ebay stores, t-shirts and more! There is no need to spend thousands on your next logo design. Simply choose a logo from your new catalog of pre-designed images ready to be edited for the web, print and more.
After payment, you are given a link to download the logo templates in .ZIP format.
Graphic files may be edited with most professional-grade graphics packages including Photoshop, Fireworks and Paintshop Pro.

What are some major advantages of purchasing these templates instead of having them designed from scratch?

1) PRICE
2) TIME
3) QUALITY
MONEY BACK GUARANTEE. If you are not satisfied, we'll refund your full purchase price. Simply email us requesting the refund.
Click below to purchase and download the whole logo package for only 19.95 now (limited time offer).
What Our Customers Are Saying:
"Recommended"

"Fast"

"Good seller, very helpful and value for the product"

"Very Fast!!! I Love The Templates!!! Rock On!!!"

"Thank you SUPER Fast Delivery"

"Fantastic!! Great value,thoroughly recommended"

"Great Logos Perfect item"

"A+"

"Excellent !!!!!!!!!!!!!!!!1"

"HAPPY BUYER!!!!!!!!!!!!!!!!!!!!!!!!!!!!!! VERY SATISFIED WITH TRANSACTION!!!"

"Prompt delivery, excellent quality recommend to all, 5 stars"

"Great deal!!!! A+ Seller!!!"

"Thank You! Great Deal!"